THANK YOU
for your support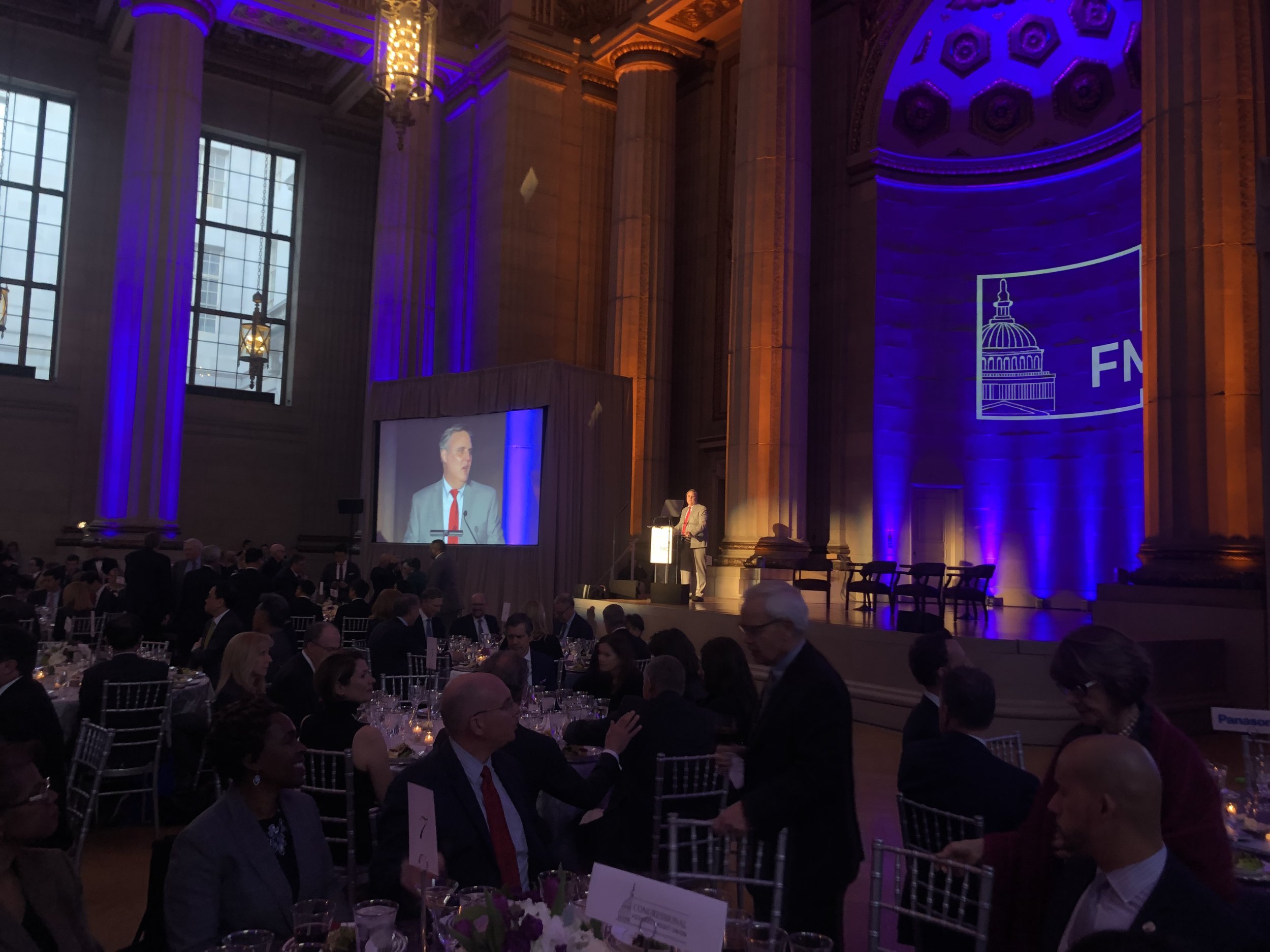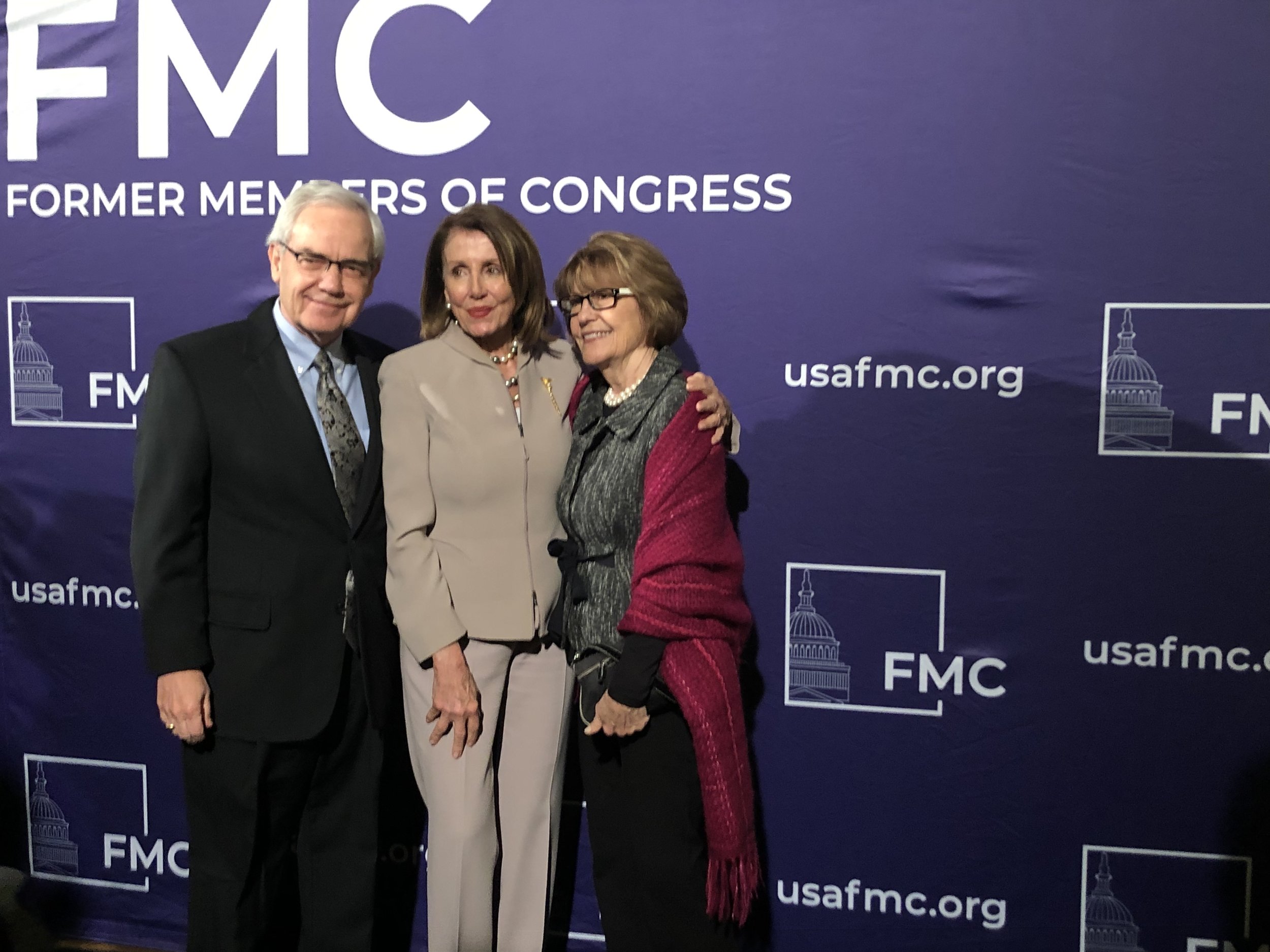 "Celebrating the Spirit of Citizenship"
Emceed by Hallie Jackson,
Chief White House Correspondent for NBC News
The Andrew Mellon Auditorium
1301 Constitution Avenue, NW, Washington DC
5:30 PM — VIP RECEPTION
6:00 PM — GENERAL RECEPTION
7:00 PM — DINNER AND EVENING PROGRAM

VALET PARKING | BUSINESS ATTIRE

On March 27, 2019, FMC will host its 22nd Annual Statesmanship Awards Dinner.

The event will continue FMC's tradition of recognizing the power of bipartisanship and the dignity of public service. For the 2019 dinner, FMC will focus on "Celebrating the Spirit of Citizenship". Our two honorees, U.S. Sens. Richard Burr of North Carolina and Amy Klobuchar of Minnesota, are being recognized for their work in safeguarding the integrity of our voting systems and preventing hostile powers from using social media to interfere in U.S. elections. Sens Burr and Klobuchar showed tremendous leadership, on a bipartisan basis, for the Secure Elections Act.
FMC strongly believes that Democrats and Republicans working together for the good of the country results in highly impactful legislation, and the Secure Elections Act is most certainly an example of that. Both Senators are also highly bipartisan; more than 40 of bills sponsored by Sens. Klobuchar or Burr featured a co-sponsor from the opposition party.

Lufthansa is being recognized for the corporate citizenship shown in several important areas, including their continuing efforts to help Puerto Rico recover from Hurricane Maria. In September 2017, Lufthansa sent a freighter aircraft full of more than 80 tons of food and water to the island. Prior to their work in hurricane recovery, Lufthansa created "Cargo Human Care," an effort that sends more than four dozen doctors to Nairobi each month, helping treat more than 250 children per month.
Emceed by Hallie Jackson, Chief White House Correspondent for NBC News
STATESMANSHIP AWARD HONOREES
Senator Richard Burr (R-NC)
Senator Amy Klobuchar (D-MN)
U.S. HOUSE OF REPRESENTATIVES HONOREE
The Problem Solvers Caucus
CORPORATE AWARD HONOREE
Lufthansa Group
2019 SPONSORS
PRESENTING

Korea Peace Sharing Foundation

BENEFACTOR
CJ
Committee of 100
Congressional Federal Credit Union
The Embassy of Japan
The Embassy of the Kingdom of Morocco
Lufthansa Group
Panasonic Corporation of North America
Sempra Energy
Volkswagen Group of America
Japan Corporate Tables Sponsored by:
Aflac, Central Japan Railway Company, Hitachi, Ltd., ITOCHU International Inc., Marubeni America Corporation, Mitsubishi Corporation (Americas), Mitsubishi Heavy Industries America, Inc., Mitsui & Co. (U.S.A), Inc., Mizuho Bank, Ltd.,MUFG Bank, Ltd., NEC Corporation of America, Sojitz Corporation of America, Toyota Motor North America
Minnesota Tables Sponsored by:
ECOLAB, Xcel Energy, Cargill, Best Buy Co., Inc., Carlson, Land O'Lakes
PATRON
AARP
Altria
APCO Worldwide
BakerHostetler
Business Roundtable
Democracy Fund
DLA Piper
Hanwha
Jay Kim Foundation
McGuireWoods
No Labels
Samsung
Smithfield Foods
SIFMA
VF Corporation

German Corporate Tables Sponsored by:
B.Braun Medical Inc., Evonik Corporation, RatnerPrestia, Representative of German Industry and Trade

Korea Corporate Tables Sponsored by:
Hyundai Motor Company, Korea International Trade Association (KITA), POSCO America

Embassy of Switzerland Table Sponsored by:
Mercuria Engery Americas and Nestlé

SUPPORTER
Akin Grump Strauss Hauer & Feld, LLP
Chevron
Comcast NBCUniversal
International Union of Bricklayers & Allied Craftworkers
Martin and JoEllen Frost
Nasdaq
National Rural Electric Cooperative Association
Northrop Grumman Corporation
Prudential
Securities Industry and Financial Markets Association (SIFMA)
The Washington Campus